Image via Wikipedia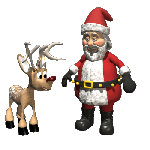 From Wikipedia
Rudolph the Red-Nosed Reindeer is a character created in a story and song by the same name. The story was created by Robert L. May in 1939 as part of his employment with Montgomery Ward.
The story is owned by The Rudolph Company, L.P. and has been sold in numerous forms including a popular song, a television special (done in stop motion animation), and a feature film. Character Arts, LLC [1] manages the licensing for the Rudolph Company, L.P. Although the story and song are not public domain, Rudolph has become a figure of Christmas folklore.
The song tells the tale of Santa Claus's ninth and lead reindeer who possesses an unusually red-colored nose that gives off its own light, powerful enough to illuminate the team's path through inclement weather.
The reindeer made his television debut on NBC in 1964, when Rankin/Bass produced a stop motion animated TV special of Rudolph the Red-Nosed Reindeer that became a popular hit in itself. This version was re-broadcast annually many times over the years, even after it was finally released on video and then DVD. It now airs several times during the Christmas season (on CBS rather than NBC), making it the longest-running TV special in terms of consecutive years. A small bit of trivia regarding the 1964 production, the Roman Numeral Date given at the beginning of the show is in error, missing the second "M", (MCLXIV) which equates to the year 1164. It should have read MCMLXIV to be correct.
In 1976, a sequel to the Rankin-Bass original special was produced, entitled Rudolph's Shiny New Year, and then a third in 1979 entitled Rudolph and Frosty's Christmas in July. Then in 2001, a fourth in the series was released titled Rudolph the Red-Nosed Reindeer and the Island of Misfit Toys.
Related articles